Automotive Components
Crafted from concept to reality Sheet metal stamped components as accessories for the leading car manufacturer

Dies and moulds machined to 3000 x 2000 mm and 4000 kgs, using CNC manufacturing

CNC machining upto 5 axis control

Aerospace and general engineering with CNC manufacturing for geometrically & dimensionally critical components

Reverse engineering and prototyping

Customized colored silicone rubber keypads with required legends
OUR FOCUS – CONCEPT TO REALITY
BOSS specializes in End to End Product Development, encompassing all aspects of Product Development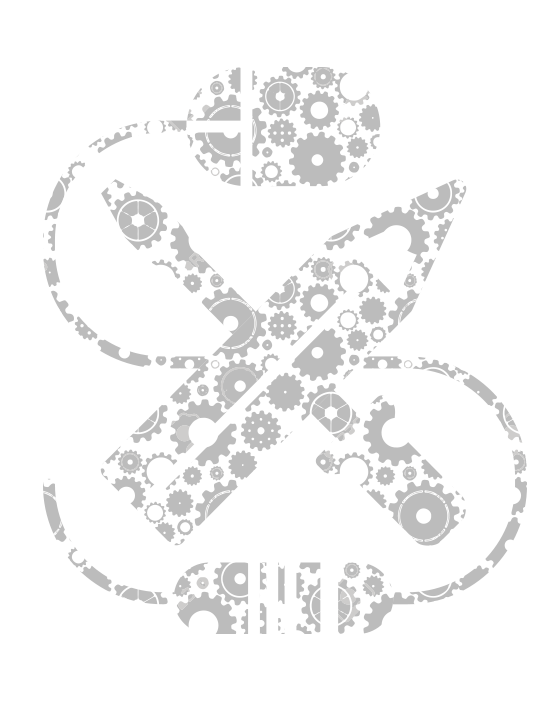 CNC manufacturing solutions up to 5-axis control
Wide range of high-tech machinery
Experienced manpower for quality output and faster delivery
Expertise in Designing and Process Planning for manufacturing
Manufacturing of dies, moulds and component machining up to 3000 x 2000 mm
Manufacturing of dies, moulds and component machining up to 3000 x 2000 mm
Tool & Die Manufacturing like Press Tools, Plastics moulds and Die casting Dies.
High tonnage Presses for mass production
Strong R&D team with complete expertise right from conceptualizing to production of LED luminaries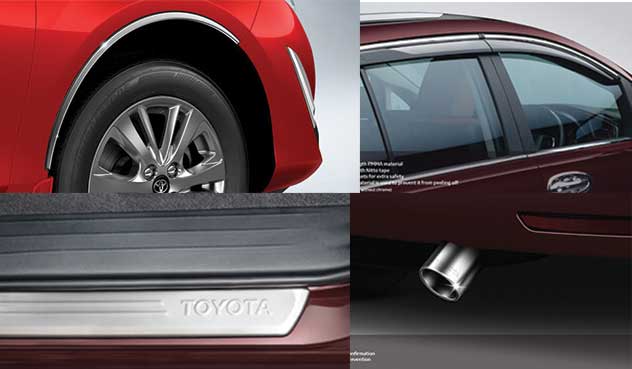 STAINLESS STEEL ACCESSORIES
Part Styling, Designing, Tooling, Part Production to match the vehicle image.
Wheel Arch Molding – currently made for 3 Toyota variants. Chrome along with wheel arch enhances the vehicle image. Its a stainless steel part, made with designated forming tools. After stamping the part goes through surface finish and assembly. There are 6 quality checks for each part.
Scuff Plate – installed on car door sill. Component is made with High Grade Matt Finish Stainless Steel. Blanking, forming and piercing process is used for making the part. Brand Logo is embossed to make it more stylish. Part is lined with rubber beading and installed with double sided tape.
Exhaust Pipe Cover/Muffler Cutter – Stainless steel accessory, rolled and formed, adds a sporty edge to the cars and 2 wheelers. It enhances vehicle rear aesthetics.
Side Visor Chrome and Window trims – To add style quotient to the car
HIGH PRECISION CNC MACHINED ALUMINIUM PROTOTYPES AND COMPONENTS
High Precision Machined Parts
We specialize in Reverse engineering and Prototyping as per the customer need. We undertake one time or small quantities of prototypes. Aluminum blocks are machined with high precision to achieve the dimensions.
Trophy designing, machining, plating, enamel painting is a niche area.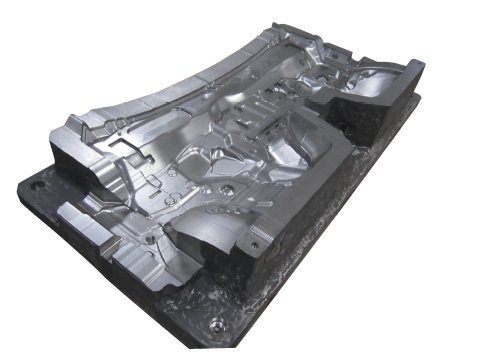 MOULDS AND DIES FOR AUTOMOTIVE INDUSTRY
Designing and Making of Tools for Vehicle Components
We develop Tools for Sheet metal forming. Design and manufacture Compression moulds for non woven felt used in NVH parts in automotive industry.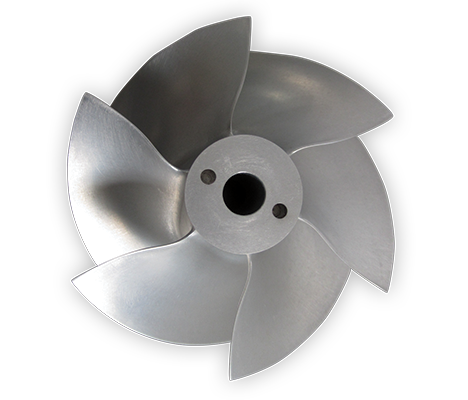 PROPELLORS & IMPELLERS
Manufacturing
Machining of any type of complex marine Propellors based on the designs. Most of them require 5 axis CNC machining.
Manufacturing capacity upto dia. 2000 mm with dynamical balancing.
Machining of High speed, stage impellers for turbo machinery with dynamic balancing is done.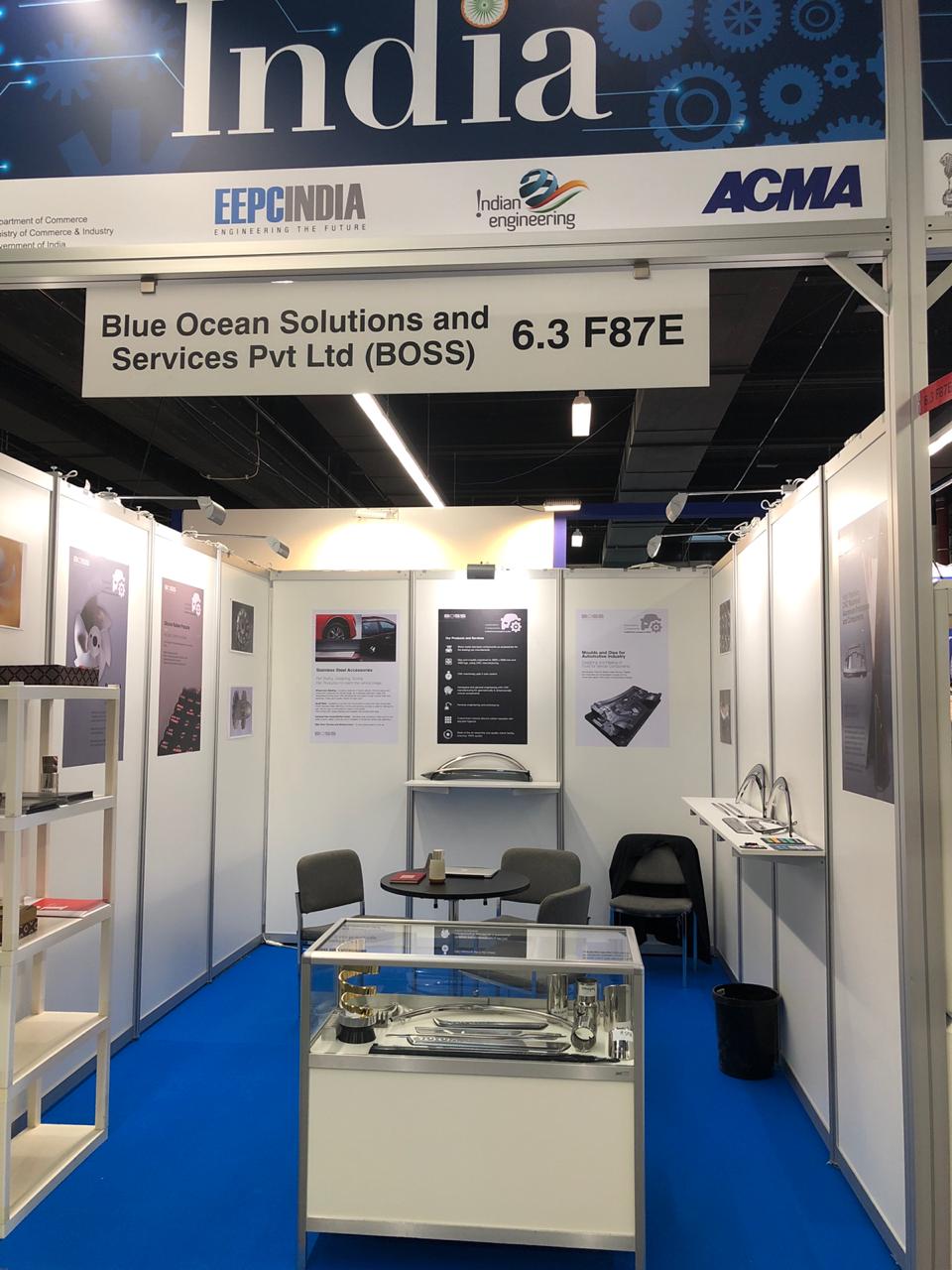 Automechanika Frankfurt is the world's leading trade fair for the automotive service industry. In 2018 the biennial trade fair will be celebrating its 25th anniversary with a host of new themes and REIFEN as a co-located show. Automechanika Frankfurt is the most important trade fair for the automotive aftermarket and has been organised by Messe Frankfurt since 1971. Approx. 133,000 trade visitors from 170 countries came to the last event. In 2018 more than 5,000 exhibitors present their new products and latest developments.
Blue Ocean Solutions and Services Private Limited (BOSS) is an Indian Engineering Excellence company specializing in product design, development and technology innovation for high tech manufacturing solutions.
We manage end-to-end product design, development and supply cycle with the focus on customizing unique products and solutions for our customers with our well-equipped tool room hosting 5-axis CNC machines and stamping facility with C-frame presses from 110 ton to 400 ton.
We are ISO 9001: 2008 and ISO 14001: 2015 Company
Cotporate Office
BLUEOCEAN Solutions and Services Pvt. Ltd.
#52, SAM Enclave, NTI Layout 1st Stage
Bhoopasandra, Sanjaynagar
Bangalore, Karnataka, 560094
India
Phone: 080 4955 3975, Fax: 080 4953 0541
Use the form below to get in touch with us (* required info)
Home